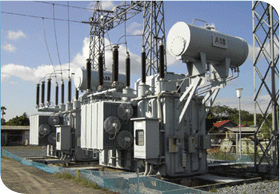 Engineering

Preparation of drawings, selection of equipments with specification, materials procurement of quality equipment and material for Transmission/Distribution Lines upto 220 kV and installation of High Voltage Sub-Station upto 132 kV.
Stage inspection & final inspection of different Equipment & Material at Manufacturer's factory and suppliers ware house.
Liaison work VIZ. interaction with client different Govt. organization for approval of Schemes, Drawing, for obtaining statutory permission / approval from appropriate Authority.

Erection

Erection of Distribution Lines on Rail Pole/Lattice Structures & Transmission Lines on Fabricated Tower Line upto 220 kV. With supply of all types of approved materials. Installation of Indoor and outdoor H.V. sub-Stations and E.H.V. Sub-Stations on Turn-Key basis right from land Development, Civil Design & Construction of Foundations, Building etc. as required for any Green field job. Survey, Investigation, Soil Testing and necessary specialization jobs are also under taken by as on request from clients.
If called for we can undertake testing and commissioning activity through our reliable authorized/approved agents.